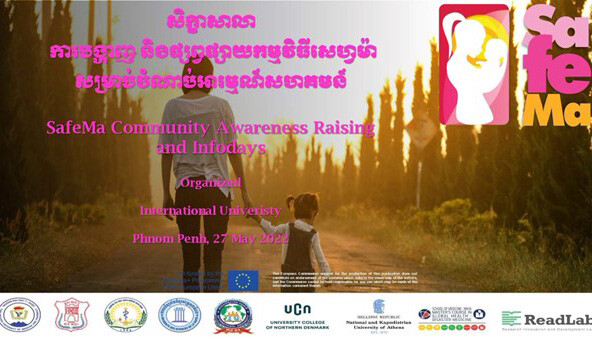 3rd InfoDays Workshop by International University
The International University is honored to inform all health staff across the capitals, provinces, especially graduates of vocational skills, nurses, and doctors serving all resources, that in collaboration with SA High schools in Europe, supported by the Erasmus+ program of the European Community, implement a joint project called SafeMa.
The SafeMa project aims to train and promote advanced and updated knowledge related to midwifery skills and reproductive health to health workers in both the public and private sectors who already have degrees and are working in this sector throughout Cambodia. The project will start enrolling students free of charge in limited numbers very soon.
For those who want to know more about the project activities and want to register for this course, the International University will organize a workshop on "SafeMa Community Awareness Raising and Infodays" on Friday afternoon, May 2, 2020 at 3:00 pm - 6:00 pm via Online (Zoom).
For Workshop Registration, please visit https://t.me/SafeMa3rdInfoday  and more information, please contact: 087 981 111 / 011 208 981